CooperToons
Educating the World with Cartoons, Caricatures, Illustrated Humor, and Even Fine Art
---
Departments
---
Need Fall Reading?

Why not look at
CooperToons Books!

Available from Amazon in Paperback or KindleTM
(Click on cover images to order)
---
---
Since CooperToons realizes that many reading the Continuing and Belated Celebration of 2011 as the

International Year of Chemistry

might need some break from all this knowledge. So perhaps it's appropriate this week to celebrate October 1 as the 82nd anniversary of the Continuing Debate as to whether

Babe Ruth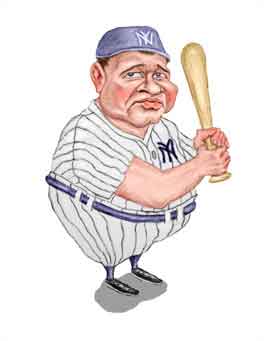 either did or did not call his home run in Chicago.
Of course, we won't solve this debate since there's really no way to prove anything one way or another. But there's some things about Babe we do know. Like the time he saw a teammate out with a pretty girl and asked him ...
Well, that story about Babe - and a lot more - are best read by consulting many of the biographies written by qualified historians. Or if that's too much trouble, you can just click here.