CooperToons
Educating the World with Cartoons, Caricatures, Illustrated Humor, and Even Fine Art
---
Departments
---
Remember
CooperToons Books
Are Available from Amazon!
(Click on cover images to order)
---
---
If there's one thing the readers of CooperToons will state unabashadely, it's that they have always wondered how you can reconcile

Einstein's Special Theory of Relativity

with the

Twin Paradox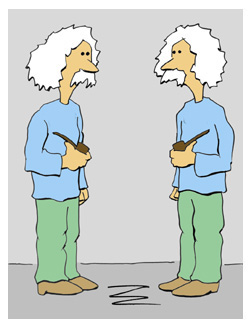 No doubt you have, as Captain Mephisto said to Sydney Brand. We simply begin with discussions of the speed of light, and then throw in stuff about tossing baseballs off trains, floating rocks in mercury, European universities, Albert Schwetizer, Ludwig Wittgenstein, and Ben Cartwright.
"I understand."
"If I thought you did ...
Well, if Captain Mephisto's conditions seemed too strict, you'll be surprised that with just a little middle school math:
"You'll understand."
That is, if you just click here
---