CooperToons
Educating the World with Cartoons, Caricatures, Illustrated Humor, and Even Fine Art
---
Departments
---
Need Fall Reading?

Why not look at
CooperToons Books!

Available from Amazon in Paperback or KindleTM
(Click on cover images to order)
---
---
CooperToons could NOT let pass observing that this week - Monday, October 27 to be exact - marks (no pun intended) the 67th anniversary of one of the earliest and most innovative quiz programs in broadcasting history. That was, of course
Groucho Marx's
You Bet Your Life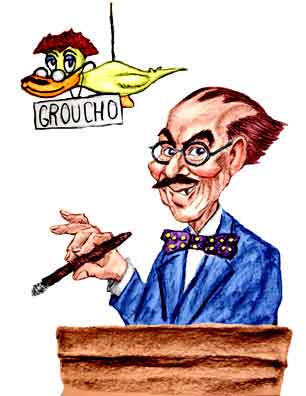 Although the duration of the show - which included its radio broadcasts - seems paltry by today's standards (where incredibly boring and tedious programs are aired for almost three decades) the fourteen years of Groucho produced thousands of Marxian zingers. But what was even more amazing was that on this show - remember these were aired from 1947 to 1961 - the contestants were often ...
Well, to learn what made Groucho's show a pioneering broadcast event that was decades ahead of its time, you can just click here.