CooperToons
Educating the World with Cartoons, Caricatures, Illustrated Humor, and Even Fine Art
---
Departments
---
Need Fall Reading?

Why not look at
CooperToons Books!

Available from Amazon in Paperback or KindleTM
(Click on cover images to order)
---
---
As it is still CooperToons' worthy objective to Continue with the Belated Celebration of 2011 as the

International Year of Chemistry

and so it seem completely appropriate to illustrate this essay with

What the ....?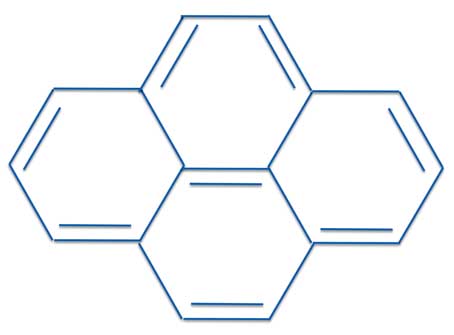 Well, for those of you who have taken a class in chemistry you may notice that this is what the teacher would have called an aromatic hydrocarbon. Even a polycyclic aromatic hydrocarbon. You would indeed be correct. This is the compound called pyrene and by all experimental and chemical criteria it is indeed an aromatic compound.
But the eagle-eyed student will notice something just a wee bit amiss. And that is ...
Well, for an explanation of what most people probably don't realize even needs an explanations, just click here.