CooperToons
Educating the World with Cartoons, Caricatures, Illustrated Humor, and Even Fine Art
---
Departments
---
Need Fall Reading?

Why not look at
CooperToons Books!

Available from Amazon in Paperback or KindleTM
(Click on cover images to order)
---
---
In CooperToons' belated but continuing Celebration of 2011 as the

International Year of Chemistry

Why not learn something about

Sir Robert Robinson
and
Sir Christopher Ingold?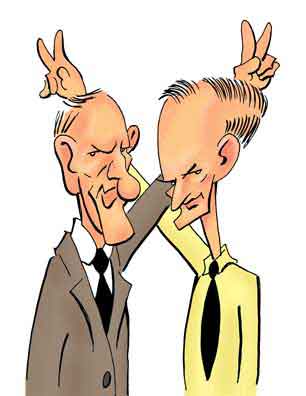 Well, of course, it might be that you're just not interested in reading about two chemists you've never heard of. Or perhaps you feel that their well documented tiff is their problem. Or maybe there's something good on the tube tonight.
Of course, if you do want to read about the brouhaha between Sir Robert and Sir Christopher - which has not yet been resolved to everyone's satisifaction - and a little about the men themselves, you can, if you wish, just click here.