CooperToons Books
Now available from Amazon!
In Paperback or For KindleTM
---
A Important CooperToons Announcement!
(If you just click here.)
---
Does anyone know the single greatest act of Civility that
George Washington
bestowed on the then-new United States?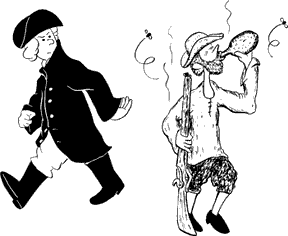 No it wasn't that George led the country to independence in the American Revolution or that he held the troops together at Valley Forge. Nor that he voluntarily stepped down to retire to private life after the war (thus earning him the title the "American Cincinnatus").
No, the single greatest act of civility that the Father of Our Country bestowed on his fellow citizens was when on March 4, 1793, in the senate chamber on the second floor of Congress Hall in Philadelphia (next to the more famous Independence Hall) George delivered the
Shortest Inaugural Address in US History
And just so you won't have to look it up, here is George's most civil address, unabridged and in toto.
Fellow Citizens:

I am again called upon by the voice of my country to execute the functions of its Chief Magistrate. When the occasion proper for it shall arrive, I shall endeavor to express the high sense I entertain of this distinguished honor, and of the confidence which has been reposed in me by the people of united America.

Previous to the execution of any official act of the President the Constitution requires an oath of office. This oath I am now about to take, and in your presence. That if it shall be found during my administration of the Government I have in any instance violated willingly or knowingly the injunctions thereof, I may (besides incurring constitutional punishment) be subject to the upbraidings of all who are now witnesses of the present solemn ceremony.
Would that all our leaders be so civil!
And for all those who want to read all of George's 110 Rules of Civility and Decent Behavior, each illustrated with a CooperToons cartoon, you can purchase the book from Amazon in Kindle or paperback format if you just click here.
For those who would first like to preview a selection of George's Rules, you can click here. Or you can see a video selection - with a soundtrack written just for George - by clicking on the screen below.