Daily Life in Ancient Egypt
A Most Merry and Illustrated History
A lighthearted look at the daily life and history of ancient Egypt with chapters on diverse topics such as the language, religion, professions, pastimes, mummies, and pyramid building. Stores about the famous pharaohs Hatshepsut, Akhenaten, and Tutankhamun are not neglected! Read about how the archeologists had to use a rather unconventional method (to say the least) to get King Tut out of his coffin. Illustrated with 135 black and white cartoon illustrations. 280 pages.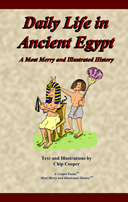 George Washington's Rules of Civility
A Most Merry and Illustrated Edition
The cartoon edition! All 110 of George Washington's Rules of Civility, edited and adapted and each with humorous and black and white cartoon illustration. See George himself show us not what to do. Supplemented with an appendix of the unabridged rules. 124 pages plus an introduction.