Alessandro Moreschi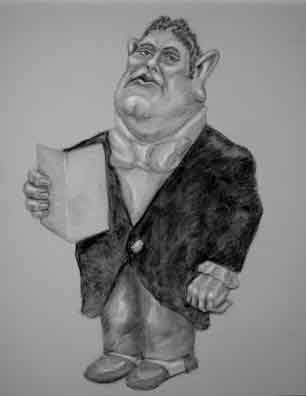 Allesandro Moreschi was one of - if not the - last male singer whose high vocal range of childhood was maintained into adulthood by means of a particular medical procedure. It was the procedure that lent the name to the vocal classification, that of the castrato or in plural castrati.
Probably the first time the phenomenon of the castrati were brought to public attention was when Tony Randall appeared on the Tonight Show. A music and opera buff Tony gave a quite learned (and entertaining) account of the history of the singers including a brief discussion of Farenelli, no doubt the most famous castrato in history.
In the early baroque operas (and if your opera ain't baroque, don't fix it), the lead male roles were usually written for castrati. Even in their own time the contrast of these large, often oversized men singing in high pitched, yet powerful voices prompted critics to trash Handel, Meyerbeer, and others for giving heroes the voice of women. But in later "classical" compositions, castrati were given the roles of women. Mozart wrote the part of Idamante, the son of the hero in the Opera Idomeneo for a castrato, although now the part is usually transcribed for and sung by a tenor.
A CooperToons uniformed layman's opinion is that in explaining the infatuation with the castrati - both in their own day and in the scholarly research today - too much emphasis is given on the sound of the general phenomenon and not enough differentiation on the individuals. Yes, the great castrato, Farenelli, was no doubt a phenomenal singer but it was because he was Farenelli, not just because he was a castrato.
For a bit more about the castrati, then just click here.
Return to CooperToons Caricatures