Alan Lomax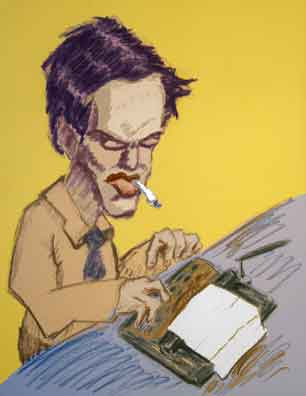 Alan is certainly the most famous American folklorist and folk song collector. But it was actually his dad, John, who started it off by collecting cowboy songs from the real cowboys whom John, Sr. had known as a boy in Texas. Alan joined his dad on the collecting trips and soon got hooked on the music. Alan was with his dad when they recorded the singing of Louisiana state prisoner Huddie Ledbetter, who all the other prisoners called Leadbelly.
Alan was also a power behind for the first folk music revival that hit the country just before World War II, and he became the first director of the Archive of Folk Song at the Library of Congress. In 1940 he helped arrange a benefit "Grapes of Wrath" benefit concert in New York City for the migrant workers of the southwest. One his co-organizers had asked a "hillbilly" singer (as they were called then) named Woody Guthrie to perform. Woody had recently left a regular job performing at KFVD in Los Angeles and had come east with absolutely no plans (and it might be added, leaving his wife and kids back in Texas). At the concert Woody was a hit, and Alan asked Woody to come to Washington to record a series of interviews at the Library of Congress as Alan had done for jazz pianist Jelly Roll Morton a year earlier. Eventually Woody became the icon of American folk music and the major inspiration of Bob Dylan and other folk musicians of the 1960's.
But Woody wasn't the only musician that got a start by playing for Alan's field recording machine. Shortly after he met Woody, Alan went to Mississippi and recorded a young blues playing sharecropper named McKinley Morganfield. When MicKinley heard Alan's recording of his playing he was convinced he had the ability to be a full time musician. So he left for Chicago, and under the name of Muddy Waters rose to being one of the country's top bluesmen. But Muddy never forgot Alan. Once at Alan's invitation he and his band dropped everything and drove from Chicago to Washington to play at the Civil Rights "March on Washington". When they got there, Alan noticed Muddy was driving a Cadillac and he, Alan, was still driving a Ford.
Muddy's usual greeting to Lomax was, "Hi, Lo!"
Return to CooperToons Caricatures