Igor Stravinsky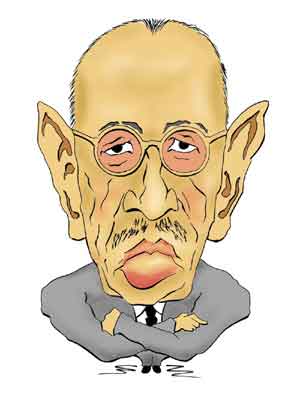 Probably the most famous "modern" composer of the Twentieth Century is Igor Fyodorovich Stravinsky. His Le Sacre du Printemps (The Rites of Spring) is considered his opus major, but as is typical of most artists, earlier works are better, particularly Petrouchka. At least the latter ballet didn't start a riot. Sacre did.
But today, with our "gotcha" mentality of writing and journalism where a good story trumps an accurate story, you can go to the Fount of All Knowledge (i. e., the Internet) and read that Igor was once arrested for playing the Star-Spangled Banner. But this alleged event did not occur in his native Russia. Instead it was in Boston, home of Paul Revere, John Hancock, Edgar Allan Poe, Leonard Nimoy, and Gretchen Osgood Warren. For - quote - "evidence" - unquote - the Fount even provides us with a mugshot of Igor taken at the police station.
Of course, like all irrevocable and indisputable truths, the veracity of this story depends upon arbitrary definitions, vague nuances, and exactly what we mean by words like "arrest", "mughot", and "play". If you actually consult newspaper files you'll find that Igor had indeed written his own arrangement - actually a harmonization - of the song which, unless you're listening carefully and have a musically trained ear, sounds pretty much like the Star-Spangled Banner. But it does seem - if the contemporary news accounts are correct, that after the concert Igor was indeed warned he could be fined $100 since in Massachusetts it was illegal to reharmonize the National Anthem. Unfortunately, the 1931 law which formally adopted the song as the nation's official anthem specified no lyrics or any particular arrangement and it's hard to see how Boston's law would have passed muster in any court.
So was Igor arrested? If you mean he was hauled to the hoosegow, mugged, and fingerprinted, the answer is - sadly for those who like a good smear story - no. So how do you explain the infamous photo that shows us Igor holding a police placard with an April 15, 1940 date? The provenance of the photo isn't clear - some speculate it is a modern fake; others say it was a photo for a reapplication of his visa. But the date shows that the photo and Igor's arrest - or warning or caution or whatever - do not jibe. The newspaper accounts clearly put the date of the concert at 1944. That the photo is a visa photo is certainly possible. Not only is it a horrible photo - like all application pictures - but in 1940 Igor was a French national and did not become a naturalized US citizen until 1945.
Igor did not start off to be a musician, and at his family's prodding he had enrolled to be a not very diligent law student at the St. Petersburg University. But Igor wanted to be a composer and a fellow student was the son of the grand old man of Russian composition, Nikolai Rimsky-Korsakov. Through the younger Korsakov, Igor became a private student of Nikolai and was put in touch with the-then avant garde Russian musical community which arose during the dying days of the tsars. But it was in Paris in 1910 where Igor's ballet, L'oiseau de feu stamped him as the new star of the music scene. Although regarded as a Russian composer, Igor returned only briefly to his homeland and that was just before World War I. So he missed the experience of Sergei Prokofiev or Dmitri Shostakovich of trying to be an original and innovative composer under Stalin. Between the two world wars Igor lived in France and then moved to the United States.
Igor was not a man to overpraise, but he was not the capricious conductor for which no orchestra could ever please. After he came to America, he was amazed when he heard one of his more difficult symphonies played (in his words) to perfection by an orchestra from a small agricultural college. Realizing that outside of their rehearsals, the students were probably spending the rest of their time studying animal husbandry or how to best use fertilizers convinced him American instrumentalists were the best in the world.