Wyatt Earp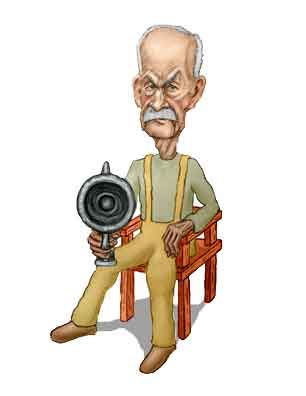 Wyatt Earp! Wyatt Earp!
Brave, courageous, and bold!
Long live his fame,
And long live his glory,
And long may his story be told!
Wyatt Berry Stapp Earp was controversial in own his day, and he's controversial now. Some said (and say) he was a man among men who upheld law and tamed the West. Others said (and say) he was a cold blooded murderer who would shoot down men begging for their lives. Some writers tell of a veritable superman; others of a two-bit and overrated gunman. One of the most famous lawmen in history, his actual time wearing a badge was limited. In 1881 Wyatt himself was asked what he did. He said he was a saloonkeeper.
Students of the life of Wyatt Earp find their studies confounded by conflicting source material, partisanship, and speculation often represented as facts. Well, if you want a little more speculation to confound the facts, then click here.
Return to CooperToons Caricatures