Jack Larson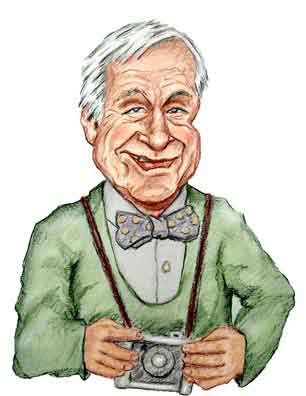 Jack Larson is a playwright whose work has been performed off-Broadway and at the Edinburgh Festival. And if you pick up a recording of the opera Lord Byron by the 20th century composer, Virgil Thompson, you'll find the libretto was written by Jack.
In addition to his stage writing, Jack also worked as co-producer of many popular motion pictures and from 1948 to 2015, Jack also an actor in 30 pictures and television shows. His most famous role was highly praised by none other than Sir Laurence Olivier.
And that role was...?
Well, among his other accomplishments Jack co-starred in the 1950's series The Adventures of Superman. His character - which drew high praise from Sir Laurence - was Jimmy Olsen.
Although the CooperToons caricatures have recently received devastating criticism, when one viewer saw this drawing - which because it shows Jack in his later years (albeit with hints) was actually intended to obscure Jack's most famous role - remarked, "Oh! Jimmy Olsen!"
But why should Jack - and with him the entire Superman show, cast, crew, writers, directors, and producers - receive a CooperToons accolade? Well, it's simply because the show supported the basic tenet of the CooperToons Philosophy regarding education. After all, in one of the episodes, Jimmy had been hearing erie sounds and voices - and said to Clark Kent - "Jeepers, Mr. Kent, maybe there's ghosts."
To which Clark Kent - played by actor George Reeves - said:
"There's no such things as ghosts, Jimmy."
Alas, you'd never hear that on any TV show today.
Reference
Superman: From Serial to Cereal, Gary Grossman, Popular Library, (1976). An excellent book which brought Jack (and other co-stars and guest stars) from the series back into the consciousness of a new generation.