Franz Liszt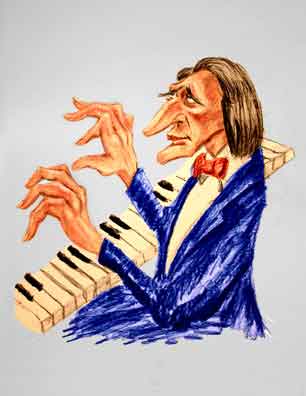 It wasn't that long ago that everyone - that's everyone - heard the works of Franz Liszt as part of our daily lives. But few of the kids sitting around glued to the television and watching Bugs hammer out the Hungarian Rhapsody #2 knew they were listening to a song by one of the rock stars of the nineteenth century.
If you hear one of Franz's songs played by a true virtuoso, it easy enough to imagine people going nuts, yelling and screaming, and throwing flowers on the stage. It was reported that young ladies would even pick up Franz's discarded cigar butts and stuff them down their bodices. When Franz played men cheered, ladies swooned - and Franz got rich.
Franz also found there were other advantages (wink, wink) to being a rock star beyond than the admiration of the masses. But rather than dwell on Franz's more than occasional - ah - fringe benefits - here (which sometimes didn't turn out so beneficial), we'll dwell on them elsewhere. That is, we will if you just click here.
Return to CooperToons Caricatures