Chuck Connors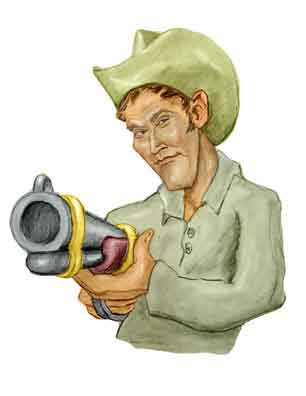 Chuck Connors was best known for his portrayal of "The Rifleman", a popular weekly TV Western about the gentle law abiding Lucas McCain and his son Mark, played by Johnny Crawford. Lucas was a farmer - a rare occupation for the hero of a TV Western - and he only wanted to live in peace with the world. Naturally, he had to kill five or six men each week to do so.
This somewhat contradictory scenario was parodied in one of Mad Magazine's better satires, "The Rifle, Man!" Here Lucas went into town to be greeted by a fellow citizen. "Hi, Lucas! Welcome t' town! Who you gonna shoot up this trip?" the man called. "You, yuh loud-mouth troublemaker!" Lucas answered before (of course) gunning the man down. "Yuh shot 'im because yuh want things t' be gentle an' peaceful, eh, Pa?" asked Mark. "Right, son," replied Lucas as he walked away. "Jus' take a look at 'im, lyin' there. Yep! There ain't nothin' as gentle an' peaceful as a dead man!"
Chuck, though, didn't start off as an actor. At either 6' 5" or 6' 7" (depending on who you believe, but from photographs it looks like the latter), he had originally played professional basketball for the Boston Celtics and then switched to baseball with the Chicago Cubs and the Brooklyn Dodgers (yes, the Brooklyn Dodgers; this was the late 40's and early 50's, after all). However, he was then sent down to the minors and realized professional sports weren't really his forte. So with the farm club near Los Angeles, Chuck tried acting and found he wasn't half bad.
Chuck appeared in a number of movies in the 1950's (including the Disney Classic "Old Yeller") until he landed the role of Lucas McCain. "The Rifleman" became one of America's favorite series and lasted a respectable five seasons. When the show ended in 1963, Chuck was immediately cast as Jason McCord in "Branded". In this show, Chuck played a soldier (unjustly) cashiered from the cavalry for cowardice. Although the series was popular enough, it ended after two years. Chuck continued to act until his death in 1992 at age 71.
One of Chuck's earlier (pre-Rifleman) appearances was - and this is no joke - as Sylvester J. Superman. This was a guest appearance on (what else?) the old "Superman" series starring George Reeves. Sylvester was - and there is no other word for it - a stereotypical hick whose companion was (and again this isn't a joke either) a donkey named Lilly Belle. When Sylvester and Lilly Belle drift into Metropolis, they need work, and he's surprised to find an ad just for him! A lady posted a job for Superman - to deliver a lemon meringue pie to her fiancée in Alaska. Naturally, there's mixups involving the real Superman and a bad guy (played by the legendary movie gangster Ben Welden) who also wants a lady to make him a lemon meringue pie. Probably not Chuck's most stellar role, but what the heck, at least it was a gig.
References
"The Rife, Man!", Mad Magazine, No. 53, March, 1960
Superman : Serial to Cereal, Gary Grossman, Popular Library, 1976