Two Rhinoceros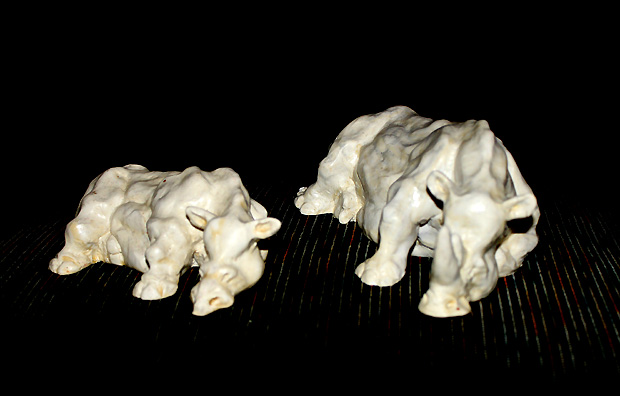 As rhinoceroses, that is, rhinoceri, or rather rhinoceroseseses, or maybe rhinoceroseseseseseses, have been discussed earlier, we will merely mention that these small statues are made of polymer clay. Chemically polymer clay is poly(vinyl) chloride, that is PVC - the same stuff that is used to make water and gas pipes, electric cable insulation, medical devices, and almost anything else.
Like all polymers, all polyvinyl chloride is not created equal. Instead, polymer clay as we know it became commercially available in Germany in the mid-1950's. It wasn't until 1975 that it came to the US.
The advantage of polymer clay - which strictly speaking is not a clay - is that it can be hardened by heating at home oven temperatures rather than those of a pottery kiln which reach around 2000 degrees Fahrenheit. The final statue is not particularly brittle and takes minor bumps pretty well. If it does break it usually breaks cleanly and can be glued back leaving little or no evidence of repair.
Alas, the one hindrance for to polymer clay's widespread use for quote - "fine arts" - unquote - is that it costs about five times that of traditional modeling clays. True, you can't put a price on great art, but you can put a price on what it's made of.
References
"Polymer Clay: A Modern Medium Comes of Age", Ornament, Jill DeDominicis, Issue 34.4 (Online: http://www.ornamentmagazine.com/backissues/backissue_34_4_polymer.php)