Portrait of Les
(Pastel)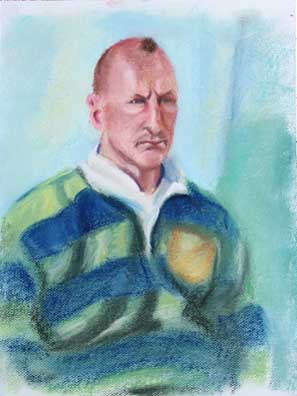 This is a portrait of Les, an English football player, who among many other accomplishments, is an excellent portrait model.
Starting in the 20th century a growing number of portrait artists - including the iconic Norman Rockwell - began to work from photographs rather than live models. This portrait, though, of Les, was drawn from life which is always good to hone one's skills.
Although it is difficult to prove just by looking at a portrait, this is actually quite a good likeness, something of which the author and illustrator of CooperToons has been accused of struggling with. Some of the more discourteous claim he even disdains accuracy for artistry. But as Giacomo Bernini told the critics who said that his portrait bust of Louis XIV was not a good likeness, "My king will outlast yours!" which means "In 400 years, who'll know the difference?"
To learn a bit about the medium of pastel and its rather interesting history, just click here.