Wild Bill Hickock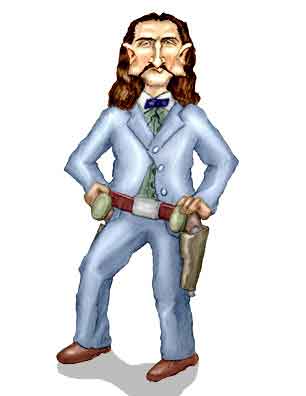 With the rise of the George Lucas' Star Wars epics coinciding with the death of John Wayne, the western motion picture began an unexpected and abrupt fall from the center of American culture. And with the western went the name of James Butler "Wild Bill" Hickok as a day-to-day icon among the young. So if you buttonhole baby boomers, they'll say, yes, of course they know who Wild Bill Hickok was. But the TV series Deadwood notwithstanding, grab a Generation X-er, and you'll find they "may" have heard of him.
But the "Prince of the Pistoleers" was a legend even in his own time, and a good deal of what you hear was more or less true, sort of. That is, he really was a Union scout, stagecoach driver, gambler, gunfighter, sheriff, and ultimately, a city marshal of Abilene, Kansas in its heyday as a tough and rowdy cowtown. But he did not (as he told a reporter) kill upwards of a hundred men. It was probably nearer seven.
Some people decry the loss of lawmen like Bill who shot first and asked questions later. However, it was a particular instance of Bill's "get tough on crime" approach that abruptly turned him into the nineteenth century equivalent of a bleeding heart liberal. As far as we know he never drew his gun again. For a little elaboration on this story, just click here.
Return to CooperToons Caricatures