Vince Lombardi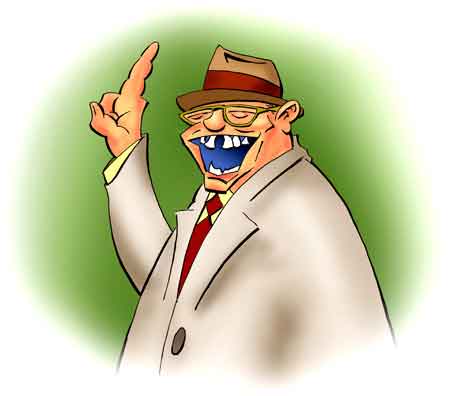 The author and illustrator of CooperToons has often been accused of sloth, indifference, and above all, elitism.
Otherwise, everyone asks, why hasn't there been a posting about the greatest football coach who ever lived?
Well, because who that is is a matter of debate. It could be Knute Rockne, who taught chemistry at Notre Dame. Before the Rock the forward pass was a novel play that you might try for laughs. Or was it George Halas who first instituted daily practice and had the first radio broadcasts of the games? Or maybe we should pick Alonzo Stagg of whom even Knute Rockne said, "All football comes from Stagg."
But for many fans, the greatest coach has to be Vincent Thomas Lombardi. Vincent and the Green Bay Packers won the first two Super Bowls in 1967 and 1968. When these games were played there were two football leagues, their halftime shows actually featured college marching bands, and - this is impossible to believe - the Super Bowls were actually played in January!!!!!!!.
As for the many Vincent Lombardi quotes, we can be sure that Vincent - to borrow a turn from Yogi Berra - didn't say all the things he said.
Once more you have to ask. Are we talking about quote Vince said or that he originated. These aren't the same thing and truth to tell, very few quotes are entirely original.
But we do know one absolutely verbatim quote. In the 1967 NLF Championship Game (deciding who'd go to the Second Superbowl) the temperature started out at -13. A newfangled (and expensive) field warming system had broken down, the field was ice encrusted, and some players kept their hands warm between plays by putting them down their pants.
The game was tied with two minutes to go. After the previous play Packers quarterback Bart Starr had called their last time out. He ran to the sideline to tell Vince he wanted to run the "31-Wedge", a hand off to fullback Chuck Mercein, who would run between the center and the guard. Vince told him to run the play. Bart ran back to the huddle and called the play.
Of course, everyone knows that Bart kept the ball. Without telling anyone he ran a quarterback sneak over the goal line, winning the game.
But as Bart trotted away, Pat Peppler, the Packer's director of scouting and recruiting, asked Vincent what play Bart was going to run. From this we have at least one authentic Vince Lombardi quote:
"Damned if I know."
Reference(s)
When Pride Still Mattered: A Life Of Vince Lombardi, David Maraniss, Simon and Schuster, 1999.
"The 50 Greatest Coaches of All Time", Zack Pumerantz, Bleecher Reports, July 31, 20
Return to CooperToons Caricatures