Ty Cobb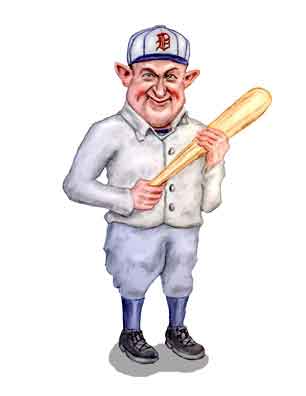 Tyrus Raymond Cobb is certainly one of the greatest ball players of all time and probably the greatest player in the "dead ball era". That is, he was the best before George Herman "Babe" Ruth started swatting out homers at a rate four to five times what previous sluggers been able to manage.
Naturally, the ever competitive Ty didn't think much of the Babe, who was a scion of low-life Baltimore saloon keepers and who (the rumor went) never changed his underwear. His family - that is, Ty's - were teachers, educators, and public servants. So on the surface he came from a much more genteel, elegant, and refined environment.
As we said, on the surface. There was one tragic event in Ty's life that affected his playing and personality far more than anything in the hard knocks school that Babe attended. And it didn't always change Ty for the better. So for a bit more on Ty, his life and his times, just click here.
Return to CooperToons Caricatures