&nbsp
Stan Hugill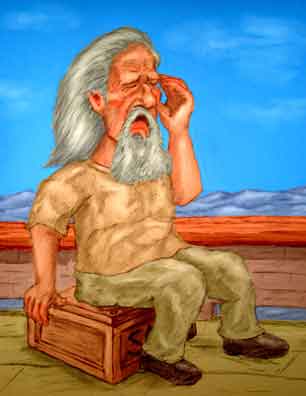 Born in 1906 in the Liverpool suburb of Hoylake, Cheshire (now in Merseyside) in the UK, Stan went to sea - quite literally - when he was a lad and caught the era last of the true sailing ships. He learned various Pacific languges (he was fluent in Japanese), was shipwrecked, torpedoed, and held as a prisoner of war during World War II. After the war, despite his lack of a formal secondary education, he earned a diploma from London University in Japanese and Oriental studies.
But it is as a collector and singer of sea songs and author of song books that the true cognoscenti remember Stan. Popular among folk audiences, Stan always had one up on the more (ptui) commercial performers. Although others may have gotten paid a bit more - just a little bit, mind you - Stan was unencumbered by the artificiality of stage paraphernalia. Give him a chair and an audience, and you had a Stan Hugill concert.
References.
Shanties from the Seven Seas, Stan Hugill, Mystic Seaport Museum, Inc. (1994). In addition to the songs Stan collected, this later edition has a nice biography of Stan.
Of course Stan has a website which is (what else?) http://www.stanhugill.com/ It has a recording where Stan tells of him being shipwrecked on the Garthpool in 1929. It's hard to believe in the age where most people ride on jets before they can walk, full masted sailing ships were used commercially well into the 20th century.
Return to CooperToons Caricatures