Sophia Loren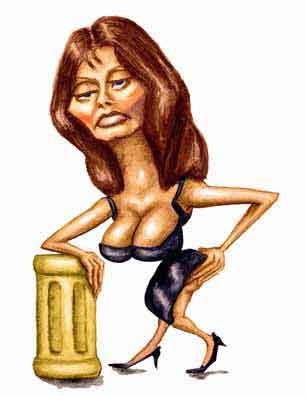 Today it is considered a compliment - at least in some circles - to refer to a young lady as a "hottie." However, such a term - although appropriate enough for Sophia - suggests a lack of dignity, elegance, and seriousness that Ms. Loren clearly has.
Sophia's life reads quite literally like a romance novel. Abandoned by a ne'er-do-well father and wounded by American bombs during the war, she (and with her mother's encouragement and help) began entering beauty contests when she was 14 (but looked a mature 18). Although Sophia didn't always win first place, one contest landed her a trip to Rome where she began trying out for (and winning) small parts in movies.
Steadily she gained ground in her acting until the Italian film maker Carlo Ponti gave her a screen test. But when the judges suggested to Sophia that she 1) have plastic surgery to shorten her nose and 2) shed a few pounds, she refused. She was going to be an actress as the Sophia she was and not as a misplaced masculine conception that even then equated feminine beauty as two cantaloupes hanging on a toothpick.
Soon Sophia began studying English and in 1957 Stanley Kramer, the American producer, decided to cast her in the female lead for the The Pride and The Passion with Cary Grant and Frank Sinatra. The offer was for $200,000 and Carlo, now her producer and later her husband for nearly 50 years, said it was the easiest decision they ever made.
Then in 1960, Sophia was given the lead in La Ciociara. The next year the picture landed her the first (and only) Oscar for a performance for Best Actress ever awarded to a foreign film.
But let's admit it, folks. Sophia is a hottie.