Sandy Koufax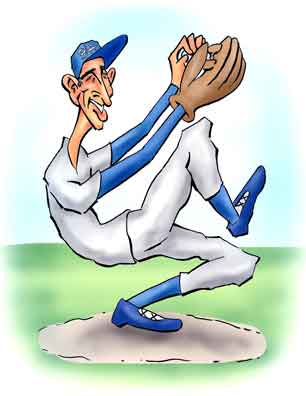 What's really strange is today Sandy Koufax probably wouldn't have made it in the majors. In his first years with the Dodgers - first in Brooklyn and then in Los Angeles - he was only a middling player at best. Of course Sandy only was getting $6000 a year, so it didn't cost the team a lot to keep him around. Still, after six years, Sandy had decided to give up and go work for an electronics company. But then 1962 came in, and he did better. Yes. So he decided to stick around.
Of course, everyone knows that Sandy decided not to pitch in the first game of the World Series in 1965 because it fell on Yom Kippur, and many praised him for keeping to his principles. Sandy, though, said it was nothing new. The team members and managers knew he didn't pitch on Jewish holy days and made allowances for it.
As far as the 1965 Series went, it's not like Sandy was the only pitcher on the roster, for crying out loud. The Dodgers also had Don Drysdale and he pitched for Game 1 and Sandy pitched the next day. Whether the Minnesota Twins would have preferred Sandy or Don is a moot point as the Dodgers lost the first two games. But of course the Dodgers bounced back the third game (pitched by Claude Osteen). Then Don won the fourth game, and Sandy won the fifth and seventh games to win the series.
Sandy was probably considered the #1 pitcher at the time, but Don wasn't far behind. Also Don had the reputation of well, let's just say, he liked to - quote - "pitch inside" - unquote. The more discourteous said Don was a bean-ball pitcher. Don denied this vehemently. He never, he said, aimed for the head.
But that didn't mean the rest of the torso could not participate. Mickey Mantle once said that Don would come up to him before a game and start poking him and laugh. "Where to you want it today?" he would ask.
"He thought it was funny," Mickey said. Willie Mays agreed. "No one was meaner than Drysdale."
But the news that Sandy didn't play on Yom Kippur had benefits. A rabbi was hurriedly driving through one of the more - well, let's say "conservative" states and was stopped by a state trooper.
When asked what was the hurry, the rabbi explained he was a rabbi. When asked what that was, he replied it was like a priest for Jewish people. He then explained he was trying to get to the synagogue before Yom Kippur began.
"Yom Kippur", the trooper asked. "You mean the day Sandy Koufax wouldn't pitch in the World Series?" Yes, replied the rabbi.
"Well, that's an important day," the trooper said and waved him on.
References
"Myth and Fact Part of Legacy from Sandy Koufax's Yom Kippur Choice", John Rosengren, Sports Illustrated, September, 2015.
"The Incomparable Career of Sandy Koufax", Gregory Orfalea, The Atlantic, Oct 6, 2016.
"Sandy Koufax", Baseball Reference.
Television Interview with Mickey Mantle, Willie Mays, and Duke Snider.
"Sandy Koufax", Joe Posnanski, Joe's Blog, April 14, 2014.
"Don Drysdale's 'Inside' Pitch", The New York Times, July 9, 1979.
"Baseball's Tragedy, Fear: The Bean Ball", Dave Kindred, The Los Angeles Times, July 07, 1996.
"Baseball: The Bounds of Retaliation; Players Count On the Beanball, as Long as It Is Done Properly", Buster Olney, The New York Times, March 24, 1998.