Ronnie Drew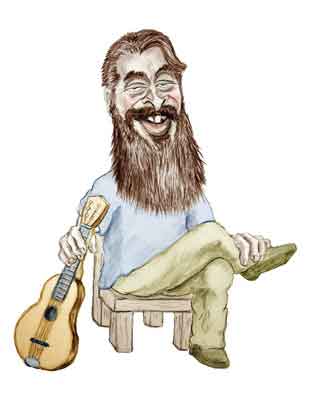 Ronnie, who was one of - or actually the founder of The Dubliners (originally styled the Ronnie Drew Group) - had a voice that was likened to the sound of coal scraping underneath a door. A just description, true, although when he was a lad, Ronnie started off as a boy soprano.
It was Ronnie and Luke Kelly who led the vocals of the Dubliners starting off in the early 1960's, and they kept going until Luke's untimely death in 1984. After that it was largely Ronnie but usually with more traditionally voiced Irish singer (such as Paddy Reilley) appearing with them as they toured. Personal opinion for Ronnie's best Irish traditional tune: "Sullivan's John" from their album More of the Hard Stuff and which Ronnie learned directly from the famed Irish musician "Pecker" Dunne. (And we do know who The Pecker is, of course. What? You don't? Well, for a new window about The Pecker, just click here ).
Like many of the Irish musicians of their time (or any musicians of anytime), the Dubliners liked to party. Ronnie and Luke particularly liked to repair to the pubs after a concert and stay long past official closing time. Fiddler John Sheahan, never much of a drinker, usually went along as they often traveled to their gigs together, but really wanted to get home for some sleep since for a number of years he kept his job at the National Electrical Board, which offered security and a good pension. Once night John went to the barman and handed him a fiver if he would make sure to close the pub at 11:00 when he was supposed to. The bartender took the money but at 2 a. m., the pub was still open.
When they were finally going home, John complained that he had given the barman a fiver to close the pub at 11:00.
"Yeah, I knew you were up to your tricks," Ronnie said, "I gave him a tenner to keep it open."
Ronnie took off on his own after 1996, singing and telling stories as always. And sad to say, Ronnie is no longer with us. He died in 2008.