The People of
Qi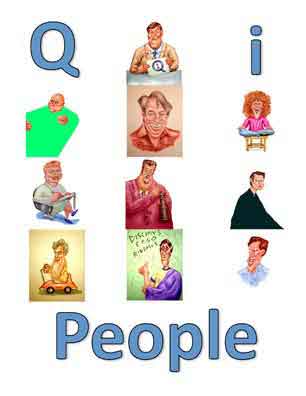 >
CooperToons maintains that the best television show in the world - and one of the few televisions shows worth watching - is BBC's Qi. This is the Quite Interesting comedy / celebrity panel show which has been hosted from 2003 to 2016 by the Cambridge educated actor Stephen Fry after which Sandi Toksvig took over the helm. The questions posed are so difficult no one expects anyone to answer them correctly. Therefore points are awarded whether the answer is quite interesting. Of course true answers - which are necessarily interesting - give the highest number of points, but answers that are incorrect but obviously uninteresting result in a penalty of ten negative points.
Alas, Qi has not been broadcast or released in the US. So while American audiences get to watch terrified amateurs being verbally abused by talentless judges or fat guys who wear backwards baseball caps and look for non-existent paranormal phenomenon using pseudoscientific paraphernalia that wouldn't pass muster with grade school science fair entrants, our UK cousins get to learn about the cures recommended by Pliny the Elder, the legacy left to the world by Jules Leotard, the triple point of water, and the true cause of the mysterious crop circles of Wiltshire.
Much of the success of Qi arises from the choice and repartee of the panelists, many of which can vie with Stephen in intellectual, educational, and comedic attainments. Some of the favorite panelists are shown above, and starting at top center and the proceeding from left to right and top to bottom, are Qi host Stephen himself, Irish comedian Dara O'Briain, David Mitchell (whose frequent rants and angry logic serve to educate and amuse), Stephen's fall guy and target for trick questions Alan Davies (who appears on all shows), stand-up comediene and former psychiatric nurse Jo Brand, Stephen's foil and gadfly Phill Jupitus, Jimmy Carr (known for the - ah - "taste" of his routines), Top Gear host Jeremy Clarkson, Mark Steel (writer and presenter of the Mark Steel Lectures, and Welsh comedian and originator of the "Little Man Trapped in a Box" routine Rob Brydon. And of course Sandi was one of the favorite panelists and has now taken over as headmaster.
So if you want to learn more about Qi particularly during the Stephen Fry era - and the few trifling errors that inevitably arise in such an excellent show - just click here.
Return to CooperToons Caricatures