Pat Garrett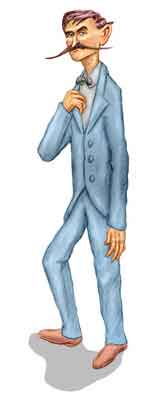 Patrick Floyd Jarvis Garrett found his immortal fame at the age of 31. But by his late fifties, he had fallen into near penury where he could barely support his family.
We must emphasize that there is no doubt that it was Henry McCarty, aka Henry Antrim (his stepfather's name), aka William Bonney (an alias) aka Billy the Kid that Pat shot the night of July 14 1881 in Fort Sumner, New Mexico. Although it may be fun to think this most famous of famous desperados got away only to show up fifty years later as some old old codger wearing a left handed holster (the widespread belief that Billy was left-handed was due to a reversed tin-type), the question is not really worth serious historical consideration.
But it is true that historians have argued a lot about who shot Pat in the back of the head on February 29, 1908. Ironically, the one person who had been generally discounted was Wayne Brazel, the young cowboy who was on the scene with a smoking gun in his hand and who confessed to the crime. But after much debate and numerous articles and books, by golly, at least some historians now think it was Wayne, after all.
If you want to learn more about the adventurous and rather sad life of the country's most famous lawman and his still somewhat controversial end, click here.
Return to CooperToons Caricatures