Pablo Casals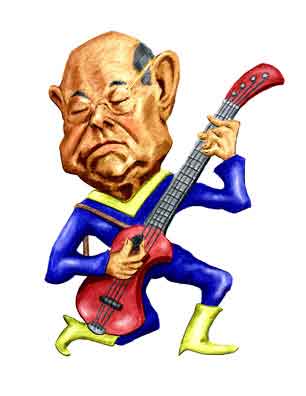 "You know what I think of that abomination, rock and roll? I think it is a disgrace! Poison put to sound! When I hear it I feel very sad, not only for music, but for the people who are addicted to it. I am also very sorry for America."
- Pablo Casals, ca. 1956.
Lest afficionados of Pablo get their dander up, CooperToons is a great admirer of the man, his music, and his life, a life, by they way, that nearly hit 97 years.
Pablo's longevity means he began his career in the days of the horse drawn carriage, and it continued well into the jet age. Perhaps the best marker of his durability is how he performed for John F. Kennedy in 1961 at the White House when he was just about to turn 85. But that was not his first performance before an American president. Nope. Pablo's visited the White House when he played for Teddy Roosevelt - in 1904.
Pablo's life on the surface appeared idyllic. He studied music, garnered the attention of famous composers, and got a stipend from the Spanish Royal Family. A typical day might be he'd get up, practice the cello for eight or so hours, and maybe teach a few students at the (then) incredibly good fee of $8 an hour. Of course, every now and then, he'd take off on one of his incredibly successful international tours.
But then read about Pablo during the Spanish Civil War. He was a royalist on the Republican side, that is, the side that lost. He not only had to clear out of Spain, but was lucky to have been able to get out. After World War II, he refused to perform publicly as a protest until the Franco government in Spain was replaced. Which, of course, never happened in Pablo's lifetime.
As far as Pablo's diatribe against rock and roll, that was delivered in 1956 at a time when a lot of people felt that way. Had Pablo been born a bit later, no doubt he would, as did many other famous classical musicians, have produced an album or two with a rocker, klezmer, or jazz musician. Who knows? Like fellow cellist Yo Yo Ma, Pablo might even have been a guest on Sesame Street. The latter, as we all know, is the height of classical musical accomplishment.