Louise Brooks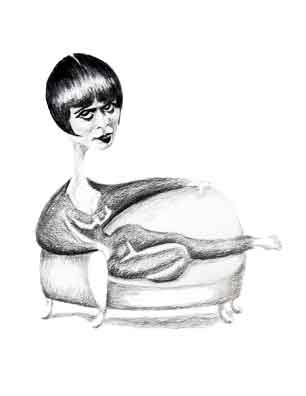 Louise Brooks was one of the pioneering sexy, sultry film stars. Some of her more famous films were European which permitted a bit more risquè plots than you'd see in America even before the Hays Code set women's rights back half a century. The opening of Der Büchse der Pandora (i. e., the more than double-entendred Pandora's Box) shows Louise at her apartment - ah - "entertaining" three gentlemen in succession. It was clear the 23 year old hostess didn't invite the rather elderly gentlemen over for tea. The dialog was in German, but that didn't bother Louise since the movie was silent. It was, in fact, one of the last of the genre and appeared two years after Al Jolson's The Jazz Singer ushered in the talkies.
Louise did move into sound, and her last movie was Overland Stage Raiders in 1938, one of the grade C-minus Westerns starring John Wayne that Republic cranked out for so many years. It's the Duke, by the way, who probably holds the record of the most variability in movie quality with films that rank from F- to A+.
The rest of Louise's long life is, as they say, clouded in mystery and was probably not particularly happy. But she got by and did some writing, but speculation is she lived modestly supported by patrons from the film industry. In recent years, though, her reputation has gotten a shot in the arm. You can find most of her films on DVD.
Return to CooperToons Caricatures