Lenny Bruce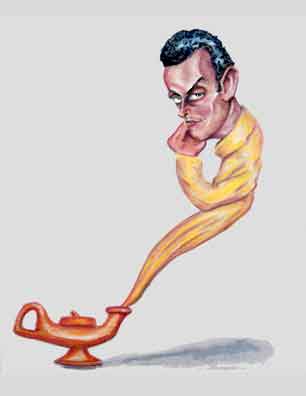 Today's students of stand-up comedy listen to Lenny Bruce and wonder what was the big deal. After all, the words that came pouring forth from his routines in the 1950's and 1960's are scarcely worse that what you hear bandied about in popular cartoon television shows. The biggest difference from Lenny's humor and that of today's comedic thespians is how they use the words. For Lenny the words were actually integral to and an important part of the joke. Today the formerly offensive words are most often simply randomly dispersed throughout overly long and rather boring routines. There are, of course, some wonderful exceptions.
But in Lenny's heyday, the Purveyors of All Morality were shocked, shocked by what Lenny said in the performances whose attendance was restricted to those who paid to hear him. So machinations were put in place to stop what was deemed unsuitable for women, children, and delicate men. After one perfromance where he used one of the seven words that you used to not be able to say on television, Lenny was arrested and his legal costs broke him financially and almost certainly played a role in his early death.
Lenny's routines caused problems for others and not just for the owners of the nightclubs where he played. After one of Lenny's arrests, his friend and Playboy Magazine publisher, Hugh Hefner, wrote an editorial vigorously denouncing the arrest. The next week some of Chicago's finest showed up at Hugh's door and arrested him.
Return to CooperToons Caricatures