Josef Stalin
(Amongst Other Names)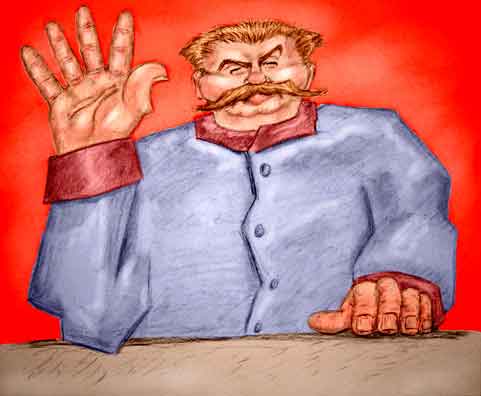 Like quite a few of our own prominent politicians, Iósif Vissariónovich Dzhugashvili never had a real job before he moved into the public arena. That is, as soon as he dropped out of the Tbilisi Theological Seminary (which he attended because his mother wanted him to), he went to being a full time politician. Weeeeeeellllll, we do have to admit he did work for about a year as a weatherman in Tbilisi, which is the capital city of his native Georgia, the Russian province just east and on the Black Sea. Yes, a weatherman, as in someone who tries to predict if it's going to snow - which in the Caucasus Mountains isn't too hard to do, at least in winter.
Alas, in 1901 being a politician slash revolutionary wasn't a high paying job and Iósif - or Joseph to use the Anglicized spelling - took to robbing banks to make a living and attending international political conferences to pass the time. Of course, the robbing banks was intended to support the revolutions - yes, that's plural revolutions - against the Tsar that began cropping up around 1905 and didn't really come to an end before 1922. The conferences on the other hand - in places like England and Sweden - were simply boondoggles organized by the Bolzeviks because their leader, Vladimir Ulyanov - who like many of the anti-Tsarists adopted a nom de guerre et révolution - had been exiled to England by Nicholas II. But eventually we know that Joseph finally did manage to get a good paying job which was paid for out of the public coffers just as our own civil leaders like ...
Or maybe ...
Or perhaps ...
Well, no names ...
For a little more about Iósif Vissariónovich revolutionary, meteorologist, bank robber, politician, and one of the worst mass murderers in history, just click here.
Return to CooperToons Caricatures