Jose Ferrer
(As Iago)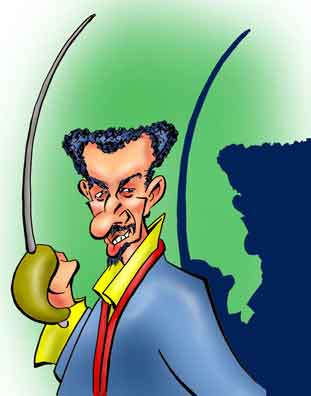 José Ferrer appeared in over 100 films and televisions shows plus numerous plays. In addition to being the first Hispanic actor to win an Academy Award, José appeared as Iago in the longest running Shakespeare play on Broadway. The lead - Othello - was played by Paul Robeson and Desdemona was played by Jose's then wife, Uta Hagen.
Although the Othello run starring Paul, José, and Uta is considered a classic and a studio recording was issued, a Personal CooperToons Opinion is that the best Othello was by the Marlowe Dramatic Society performance starring Richard Johnson (Othello), Anna Calder-Marshall (Desdemona), and Ian Holm (Iago). Ian's performance has to be one of the best Iago's ever, but all of the actors put in great performances. You really have to feel sorry for the hapless Roderigo played by Peter Geddis. Sadly the recording is not easily available.
Of course, for a good summary of the play you can always consult Richard Armour's Twisted Tales of Shakespeare.
Reference
"Othello", Shubert Theatre, (10/19/1943 - 7/01/1944), Internet Broadway Database
Twisted Tales from Shakespeare, Richard Armour (author), Campbell Grant (illustrator), McGraw-Hill, 1957
Return to CooperToons Caricatures