Mr. Joe Louis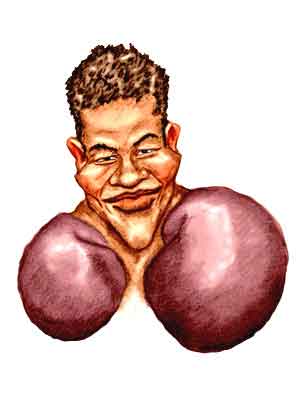 As a teenager, Joe Barrow had been living in Detroit with his family, attending vocational school, and briefly - some say very briefly - taking violin lessons. But in a day when there were only three - count 'em - three professional sports of any popularity - baseball, horseracing, and boxing - it was inevitable the hefty youngster would put on a pair of gloves at the local athletic club. The usual story is he dropped his last name so his mother wouldn't learn of his new hobby. But Joe's sister remembered his mom felt if Joe wanted to try boxing, he could try boxing. But for whatever reason Joe Louis Barrow soon became Joe Louis.
Joe became heavyweight champion of the world when he knocked out James J. Braddock on June 22, 1937. Joe kept his title for eleven years and eight months and retired undefeated on March 1, 1949. But for various reasons he attempted a comeback. Finally after 71 professional fights, Joe Louis finally hung up his gloves. In the end he had lost only three contests: the first fight with Max Schmeling, his bout with Ezzard Charles, and in his last professional contest which was with Rocky Marciano on October 6, 1951.
On paper Joe did quite well financially, and he never felt he was mismanaged. But in the end he spent everything he made. He tried a number of business ventures, none of which were very successful. Heavily in debt, Joe eventually found work as casino "greeter" in Las Vegas. Some see this as a sad end for one of the twentieth century's most iconic figures. But for the gregarious Joe, who always liked people, there were certainly worse ways to make a living.
After attending the boxing match between Larry Holmes and Trevor Berbick on April 11, 1981, Joe suffered a heart attack. He died the following morning at what was then becoming a fairly young age. Joe Louis was 66.
For a bit more of the life of Mr. Joe Louis, click here.