Jimmy Durante and Rose Marie
The First Performers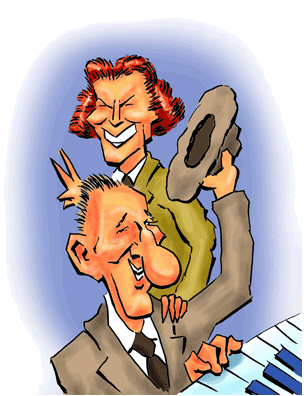 Today to your average Joe or Josephine Blow it is Rose Marie Mazetta Guy who is better remembered than James Francis Durante. The baby boomers remember Rose Marie by her stage name - which is Rose Marie, by the way - when she was one of the co-stars of the Dick Van Dyke Show. The next couple of generations remember her frequent appearances on Hollywood Squares.
But we can't deny that in terms of fame during their own heydays, Jimmy was truly iconic. He even had the honor of being parodied by other comedians, including the Three Stooges and as various personifications in classic Warner Brothers cartoons.
And one comedian who parodied Jimmy was, yes, Rose Marie. In fact, she once performed her Jimmy Durante imitation when she appeared with Jimmy himself! Naturally Jimmy - whose cantankerous act was just that - took it in stride.
But what made the performance on December 26, 1946 memorable was where they performed and who happened to be their boss. That was none other than ...
Well, lest we make any false impression, we are referring to the impressario who had hired them for what was perhaps the first "big" show in Las Vegas. Not that Rose and Jimmy were actual employees. So if you want to clear the matter up a bit more, you can just click here.
Return to CooperToons Caricatures