Jimmy Carr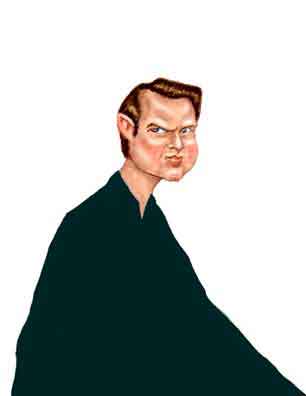 British comedian Jimmy Carr is oft cited for the - ah - "taste" - in his stand-up routines. Of course, that's reminds us of the old song lyric, " If it weren't for bad luck, I'd have no luck at all." But an Official Personal CooperToons Opinion - as expected coming from a fan of Redd Foxx - is that Jimmy's routines are actually pretty tame.
Jimmy has also demonstrated superior cognitive and organizational skills. Once on the BBC comedy quiz show, QI, he and the rest of the panel were given sets of alphabet magnets and a board and told to create words or phrases. Most other panelists found the individual word or two such as "FOX" (Alan Davies) and "QUIM" (Jo Brand). But Jimmy took his letters and spelled out, "PUT SMARTIES TUBES ON CATS LEGS MAKE THEM WALK LIKE A ROBOT". As co-panelist Alan Davies said, "That is was unbe-[bleep]ing-lievable!"
Later Jimmy incorporated the sentence into one of his routines. It didn't seem like anyone thought it was particularly offensive.
Return to CooperToons Caricatures