James T. Farrell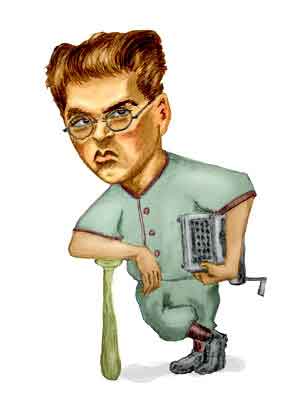 James T. Who????!!!!!!????
James T. Farrell, some say the greatest novelist America ever produced. Too bad you've never heard of him.
In 1938 Jim's first novel, Studs Lonigan (actually it was a trilogy) was included in Random House's Modern Library series alongside works by Herman Melville, Nathaniel Hawthorne, and Walt Whitman. John Steinbeck praised the book's realism and in 1960, Studs had been made into a movie featuring Jack Nicholson. By 1979, Jim had lived long enough to see his masterpiece transformed into a much publicized and well-received television mini-series.
Then in 2008 NPR had hosted a talk show on American literature. When Studs was brought up by a caller, none of the panel - which included literature professors from major US universities - had ever heard of Studs Lonigan - or of James T. Farrell.
So what happened you ask? Well, you can't expect to find answers to literary questions that flummox the best critical minds on a cartoon website, can you? But you can click here and learn a bit more about James T. Farrell.
Return to CooperToons Caricatures