Ian Fleming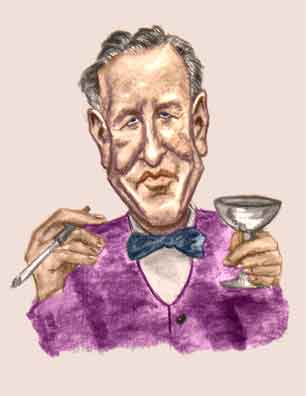 Ian never lived long enough to learn what he hath wrought. He died on August 12, 1964 at the age of fifty-six, just before the movie Goldfinger was released and transformed Bond from a fictional spy with a decent following and a couple of popular movies into an international phenomenon which shows no sign of abating after half a century.
Believe it or not, Bond films originally came from books, not as is increasingly the case, from characters in video games. The novels are, it must be admitted, a bit dated, and as time goes on, they they will probably recede into being period pieces like the books and stories of Sherlock Holmes. But the imitators and successors just can't quite get it as good as Ian.
For a bit more about Ian, James, and the 007 Phenomenon, click here.
Return to CooperToons Caricatures