Edmund Hillary and Tenzing Norgay
1899 - 1981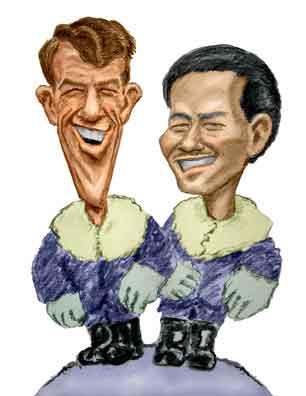 The first two men on Everest, as everyone knows, were Edmund (later Sir) Hillary and Tenzing Norgay.
Well, as everyone should know. But then we can't be too stuffy about this one. After all, at one point Edmund himself did some American Express commercials with the joke that no one remembered who he was.
Of course, when they got back there was the big question. Who reached the summit first, Edmund or Tenzing? Well, if you don't know, you can click here, and yes, the question stirred up a bit of controversy.
Both men, by the way, have set foot on their highest summit; Tenzing in 1986 at age 71, and Edmund in 2008, at 88.
Return to CooperToons Caricatures