Groucho Marx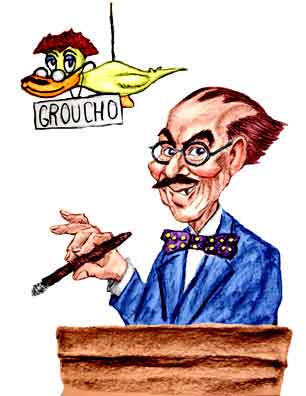 Julius Henry "Groucho" Marx needs no introduction and so we'll dispense with one.
In 1947, Groucho became host of You Bet Your Life, first on radio in 1947, and after three years, the show moved to the then infant medium of television. The program lasted until 1961, and reintroduced Groucho, then famous from the 14 motion pictures made with his brothers, to a newer and younger audience. Some of Groucho's quips, though, were considered too daring for prime time viewing and ended up on the cutting room floor.
Anyone who has ever seen Groucho knows he was hilarious even on his off days, which weren't many. But one aspect of You Bet Your Life that is virtually never mentioned was that Groucho, having experienced anti-Jewish sentiment growing up, made sure his guests were selected from all ethnic and cultural groups. This was virtually unheard of on quiz programs even into the mid-1960's, and to have African Americans appear with white guests in 1950 made most sponsors shudder. True to his principles, though, Groucho would dish out his zingers to everyone without regard to race, creed, or national origin.
For a bit more on Groucho and this most popular of television shows, click here.
Return to CooperToons Caricatures