The King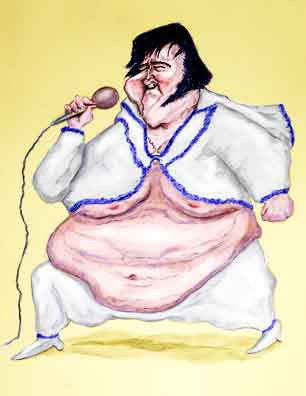 Well, he might not have been as good as Lonnie Donegan or Woody Guthrie , but all in all we have to admit Elvis didn't do too bad for himself.
Although the tale is too trifling to relate in detail, this - shall we say it? - masterpiece was drawn because the gauntlet was thrown. The reason, the author of CooperToons was challenged, that he never (well, hardly ever) draws famous celebrities like Elvis is because he can't draw famous celebrities like Elvis. Honor affronted, the author of CooperToons more than rose to the occasion.
For those who expressed approbation at this tribute, all we can say is "Thank ya. Thank ya very much."
Return to CooperToons Caricatures