Ewan MacColl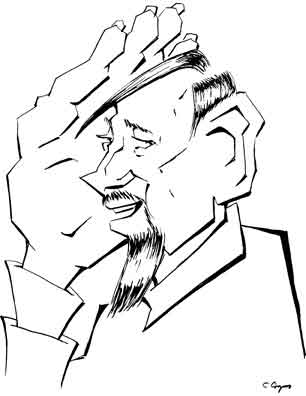 Of course, many will look at this page and say "Ewan Who?" But true fans of Ewan will rightfully point out that Ewan was the premiere balladeer and folksinger of the UK in the middle and later twentieth century. Like his friend Tommy Makem, Ewan wrote so many good songs that some of them have entered into folk circulation and are sometimes mistakenly given the "trad." tag.
But there are (pah!) Philistines who might have heard at least one of Ewan's songs. When he met his soon to be wife, Peggy Seeger, Ewan wrote, "The First Time Ever I Saw Your Face". It was recorded by Peggy and by others, but it really hit the big time with Roberta Flack's rendition for which she received a Grammy.
Now do you know who Ewan MacColl was?
In addition to being a folklorist and singer, Ewan was also a political activist of the type so sadly lacking today. In other words just because Ewan became successful, he never - that's never, never, never, changed his politics because he made more money or had to pay more taxes - a very, very rare breed of individual. Yes, Virginia, you can be and adult, successful, and an idealist. Or you can if you try a little.
Return to CooperToons Caricatures