Edgar Degas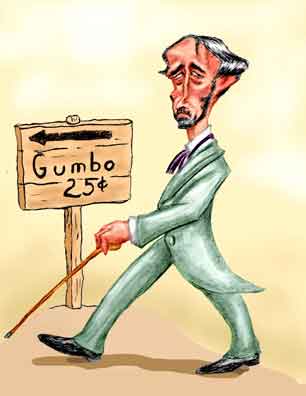 >
How many people know that Edgar Degas, one of the original Impressionists - or as the first called themselves, the Artists, Painters, Sculptors, Engraves, etc., Incorporated - might very well have ended up as a cotton merchant in New Orleans? Well, it could have happened. After all, his mom, Marie-Célestine Musson, was (literally) a Creole belle from Louisiana who married the uppercrust Parisian banker, Auguste de Gas (as the family preferred to spell the name). Even though Edgar was born in Paris, had he not shown such early talent as a draftsman at an early age, he might very have joined his brothers, René and Achille, in their uncle's business in the Mississippi delta.
Edgar - probably the best draftsman of the Impressionists - had early success as a painter, and by the time he died in 1917, Impressionism was mainstream. Paintings by Renoir, Cezanne - and Degas - were fetching higher prices than Geromes, Bonnats, or Corots. In fact, in 1912, Edgar had the singular honor of seeing one of his paintings sold for what was then the highest price ever paid for a work of a living artist. Reporters asked him how it felt to be so honored. His reply should have surprised no one since then, as now, artists receive nothing when their works are resold. He felt, Edgar said, like a thoroughbred who, after winning yet another race, returned to the stable to be fed the same old bag of oats.
For un petit plus of the life of Edgar - not all of it pleasant for him or for us - click here.