Bonnie and Clyde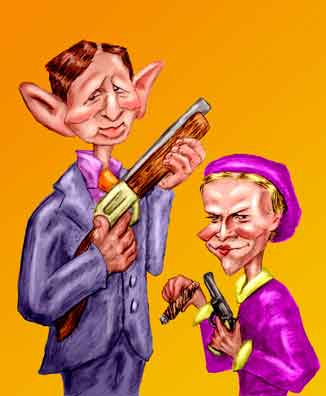 >
A Robin Hood Dynamic Duo? The Romeo and Juliet of the Underworld? Not, as Eliza Doolittle said, bloody likely.
Overglamorized and falsely idolized folk heroes, certainly. Dangerous and reckless criminals, indeed. Victims of economic depression and brutal and outmoded prison systems, perhaps.
There is no dearth of books on the real Bonnie and Clyde, and most are indeed good faith attempts to get to the truth. But although for the most part the salient parts of the story are in agreement, it is most unlikely we will really know the more important facts - such as who really pulled the triggers in some the 14 murders the gang committed. In some of them Clyde was blamed, but later modern historians have doubted that he was the actual triggerman in all the shootings. But no historians deny Clyde committed murders.
Complicating the issue is the source of the information. Police records are often terse and barebones. Testimony from eyewitnesses is often contradictory. And much of the behind-the-scenes information came from Bonnie and Clyde's family who got the information from - you guessed it - Clyde himself. In the end you literally have as many versions of the events are there are people there.
But what is indisputable is that Bonnie and Clyde were shot and killed on May 23, 1934 about eight miles south of Gibsland, Louisiana. Whether they were given ample warning to surrender (as the officers attested) or just were shot down without any warning (which is possible) or even if an inexperienced deputy accidentally fired too soon which initiated the final barrage (increasingly accepted) will also, alas, never really be known for certain.
But in any case you may read a bit about Bonnie and Clyde - but not about Warren Beatty and Faye Dunaway - if you just click here.
Return to CooperToons Caricatures