Babe Zaharias
1911-1956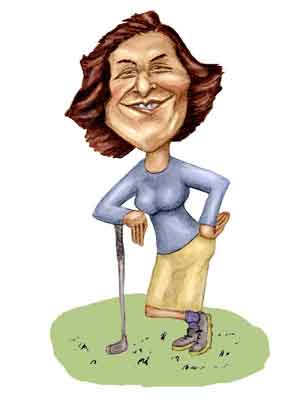 Mildred "Babe" Didrikson Zaharias was one of the first of the really kick ass female athletes. At the 1932 LA Olympic Games she won three gold medals - javelin, hurdles, and high jump. But she was only awarded two. In the high jump, she leaped over the bar head first, rather than backwards. Since that was not standard technique, the judges knocked her down a notch and gave her the silver instead. By the time she was twenty-one she had played pretty much every sport you can name.
But Babe was most famous as a golfer. People forget that although there are ladies today making the news by entering normally all male PGA tournaments, Babe did that nearly seventy years ago. And she made the three-day cut!
There is a lot more you can learn about Babe. You can, if you wish, pick up one of her biographies (ergo, a book) or visit some authoratitive websites, such as the one for the Babe Zaharias Foundation. But if that's too much trouble, you might learn something if you click here.
Return to CooperToons Caricatures