Arturo Toscanini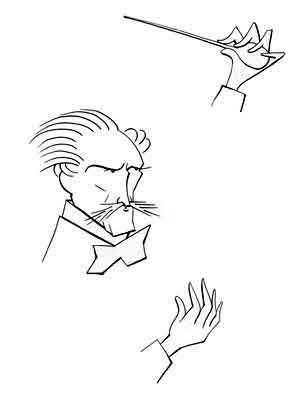 The drawing of this caricature calls to mind what the entertainer and comedian Jimmy Durante once said when he was going to appear in a television special. He said he had to work for 18 hours a day for a month to make the show look like it was unrehearsed.
During his years of greatest fame - from 1908 to 1954 - most people believed that being a member of Arturo's orchestra - whether it was the orchestra of La Scala, the New York Philharmonic, the Metropolitan Opera, or the NBC Symphony - was the most coveted position of musician could have. Coveted, perhaps, but one interviewer found out that some musicians didn't really rate the maestro as high as you might think. Yes, Arturo was a giant in his field, but his personality quirks often got in the way of his effectiveness as a conductor.
Arturo's temper was legendary, and today would not be tolerated. In fact, one time Arturo got so mad that .... Well, perhaps we should save a more in-depth discussion of Arturo for later. Not much later, of course, if you just, click here.
Return to CooperToons Caricatures